LOVE ACRYLIC PAINTING?
So do we.. The mess, hassle, & expense.. not so much.
It's time for a better way to unleash YOUR vibrant creativity!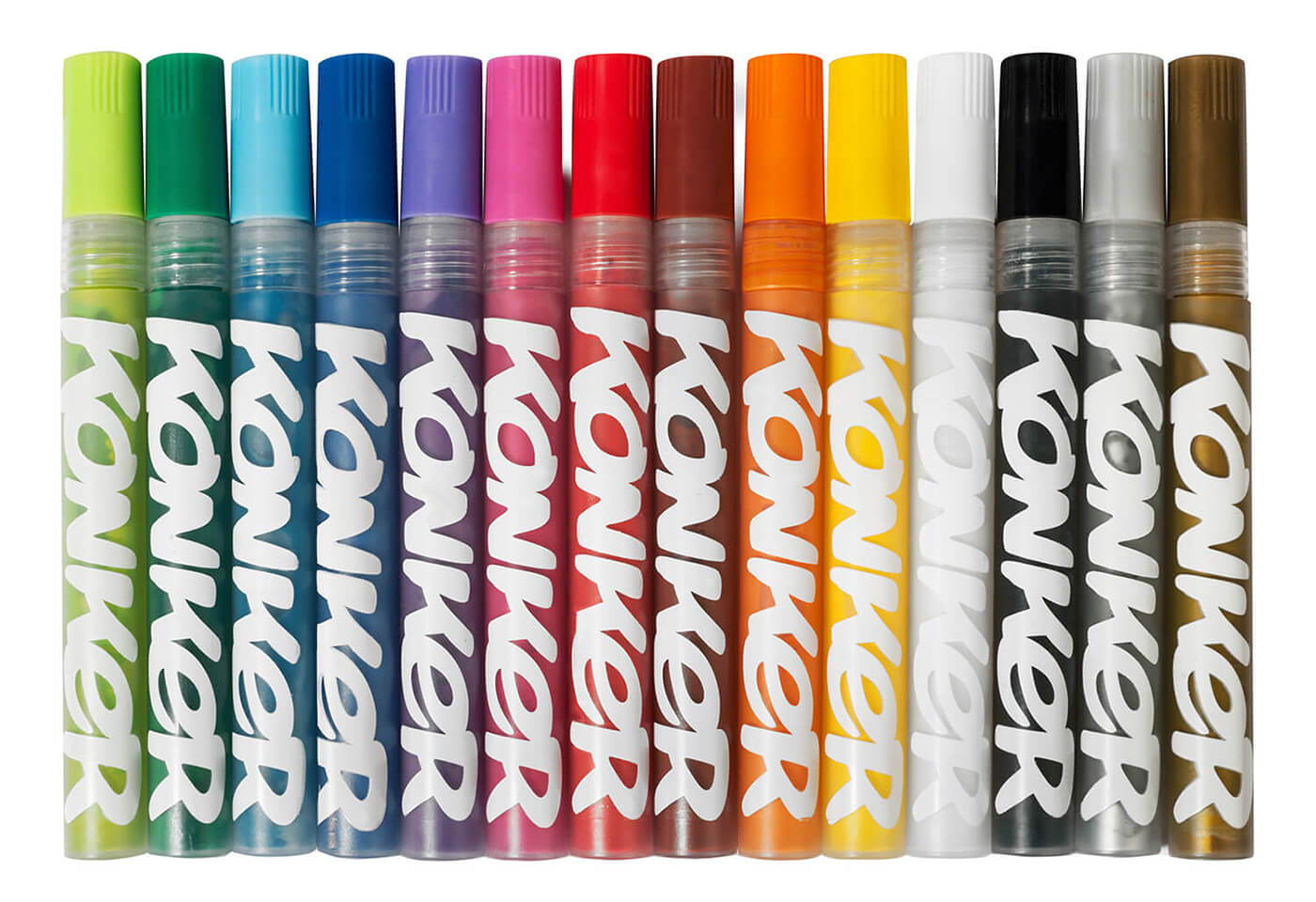 Our professional acrylic paint markers were created by artists, for artists, to create stunning vivid works of art on virtually any surface.. without all the frustrations of traditional painting!
What's holding you back from expressing YOUR artistic vision?
You're passionate about your creative pursuits. Maybe your vision is to capture the natural beauty of the world around us, or perhaps the grittier, unsettling dark side..
Either way, you've probably felt a bit stifled by the art products you've tried before, haven't you?
Let's take the traditional paint-and-brush approach, for example.
People have been painting with brushes for hundreds of years. In fact, legend has it that the first "modern" paint brush was invented by a Chinese general around 300 BC.
But just because it's "the way it's always been done" doesn't make it the best way.
Think back to your last experience painting with brushes & acrylic paints.
Do any of these frustrations sound familiar to you?
✘ You spent more time setting up; finding all of your brushes & paints, setting up your palette, getting sponges, rags, paper towels, water cups, & everything else you need - than you spent actually painting!
✘ You invested too much time & wasted too much paint - trying to mix the exact colors you want. The time you would have rather spent bringing your artistic vision to life!
✘ You continue working on a piece you started more than a few hours earlier & found it almost impossible to re-create the exact colors you were working with before!
✘ You were excited to try out your brand new brushes.. but quickly found out just how difficult they are to master - probably tossing out more than a few that didn't live up to their seller's promises!
✘ You forgot to clean a few of your brushes during your last creative session & had to throw them away - while thinking about how much money you just wasted!
✘ You thought about heading off to the park or another location to get some inspiration, but picking up & moving everything would just be a major pain in the rear!
✘ You realized how much money you're really spending on acrylic paints, brushes, & other supplies.. & it almost made you want to stop creating art for good!
You probably nodded your head when you read at least one of those, didn't you?
You're definitely not alone, almost every artist who has ever worked with acrylic paints has had similar experiences.
That's why a LOT of artists have decided to give acrylic paint markers a shot.
But have you ever tried these things?
Cheap imitation paint markers eliminate some of the problems of brush painting.
On the surface, picking up an inexpensive set of acrylic paint markers sounds like a fantastic idea. You get to skip the lengthy setup & cleanup processes - for the most part anyway.
BUT.. if you've ever tried out cheap paint markers, you've undoubtedly found out they're not all they're cracked up to be.
✘ They have cheap plastic tips that clog & wear out easily.
✘ Are insanely difficult to prime without ending up with big blobs of paint on your work-in-progress.
✘ Are filled with low-quality, beginner-grade paint that lacks the vibrancy, precision, & flow you need to do your best work.
✘ Are almost impossible to use on non-standard media like wood, metal, & glass.
✘ Are designed to be trashed - you can't refill them, so you have to throw them away & spend more money buying new ones!
So what's an artist supposed to do?
Let's face it, your need to create is hard-wired in you. You're not about to give up on expressing yourself through your artwork.
But with the hassles & expense of brushes & throw-away markers, you've probably felt like hanging up your paint smock forever - although we hope you never actually go that far!
Your frustration with "traditional" art supplies is in direct conflict with your unquenchable need to create art. The question is, how can you resolve that conflict?
We feel your paint. After all.. we're artists too. That's why we insist on finding a better way to create!
You see..
We believe passionate people like you can change the world for the better!
Artists have positively affected their local communities & made major impacts on the world for centuries.
We know that to create art that truly expresses your passion & vision, art that has the potential to change the world, you need art supplies that work as hard as you do.
We believe that the tools & media you use should be simple, enjoyable, cost-effect, durable, & be of the highest quality possible.. As a professional-level artist, you deserve nothing less.
That's why we set out to create a better way for you to bring your artistic vision to life.
We began researching ways to get the expressive visual impact of traditional acrylic paints without all of the mess, frustration, & waste. After testing dozens of options, we realized that acrylic paint markers could be perfect.
But we didn't want to create just another paint marker. We understood the limitations of acrylic paint markers currently on the marker & knew we needed to figure out how to make them better.
So we developed & tested countless prototypes in search of a solution that would let you:
✔︎ Setup your working area in a matter of seconds so that you could begin unleashing your creativity before your inspiration fades away.
✔︎ Achieve stunning results with consistent color, precision, & freedom to create everything from large-scale abstract murals to detailed mini-artworks.
✔︎ Work on virtually any surface imaginable, so that you could take your creativity to new mediums.
✔︎ Pickup & go wherever your inspiration takes you, without cleaning up & packing away dozens of brushes, paint tubes, & other supplies.
✔︎ Blend perfectly matched hues every time instead of wasting your time trying to mix paints to get the right colors.
✔︎ Express yourself without wasting money on supplies you don't need.
✔︎ Experience the freedom & flexibility to create art your way.
✔︎ & do it all in an environmentally friendly way - without using toxic chemicals or materials!
It was far from an easy process.. but the best things in life aren't easy. In the end, we finally created what we're convinced are the world's best acrylic paint markers for passionate artists like you.
And right now, getting your hands on these markers is just a couple of easy clicks away.
KONKER COLORS ACRYLIC PAINT MARKERS!
Premium, Vibrant, Convenient Paint Markers to Truly Unleash YOUR Creativity!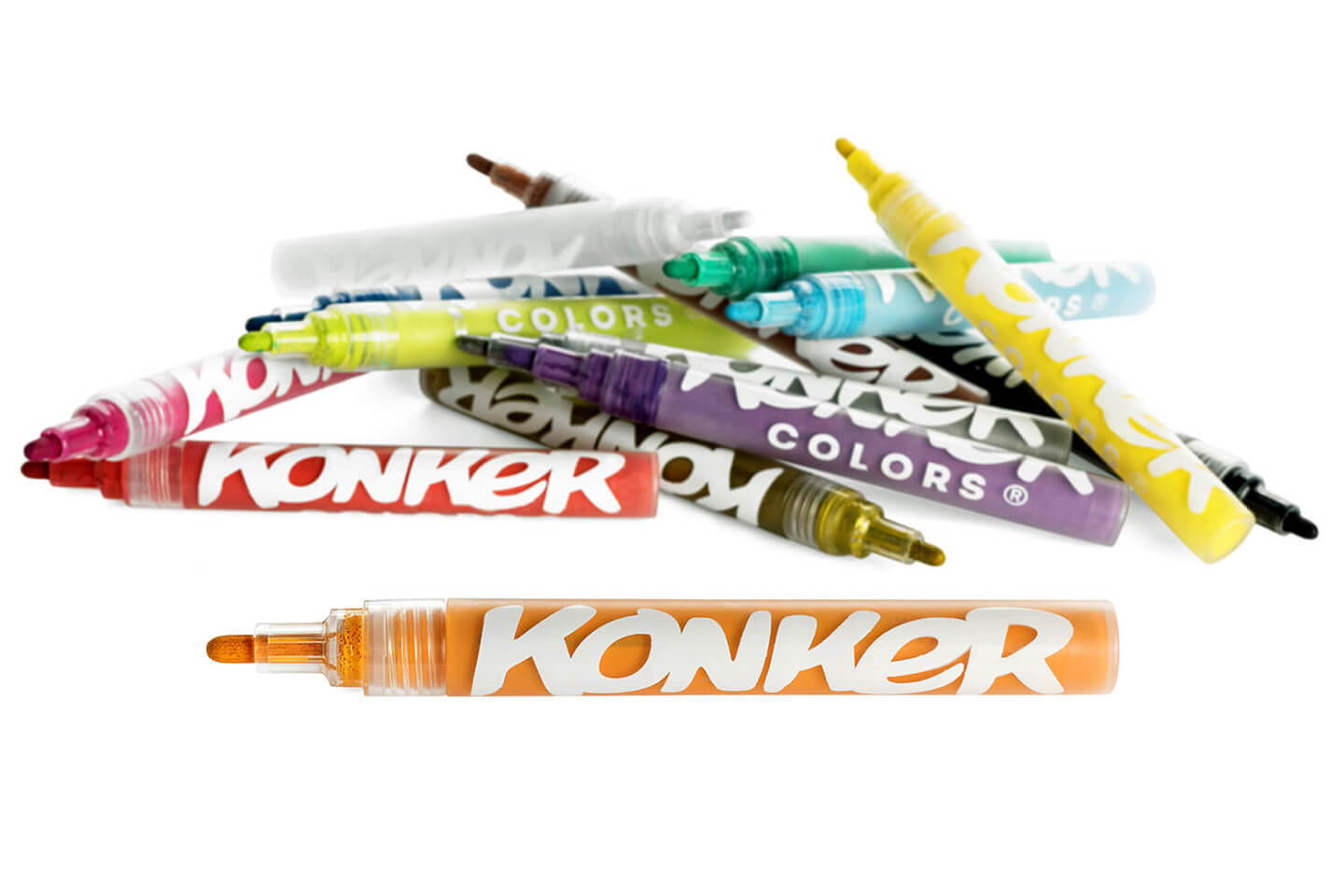 Quite simply, Konker Colors acrylic paint markers are art… evolved.
You get refillable, high-precision markers that give you the freedom to create when, where, and how you want… without the limitations, messy cleanup, or cost of traditional art supplies.
Imagine being able to take your masterpiece from vision to reality fast… and with much better results than you'd get with ordinary paint markers or traditional brushes and paint tubes.
Konker Colors markers complement your creativity, empowering you to make every work your best work!
What Makes Konker Colors Acrylic Paint Markers Better Than Anything Else You've Ever Tried?
We designed every aspect of our premium markers to give you the greatest freedom, flexibility, and results possible. We threw out all of the old, stodgy ideas about creating art with acrylic paints, and redesigned the experience from the ground to make painting so simple and satisfying, you won't ever want to put your markers down!
Here are just a few of the features that make our acrylic paint markers the ideal choice:
✔︎ VIVID SATURATED COLOR:

Filled with vibrant opaque paint crafted from professional grade water based acrylic. Rich with thick pigment to cover most surfaces in one coat, yet thin enough to flow consistently without clogs, globs, or skips! Ideal paint formula makes priming the tip easy & because you can see the paint in the tip no more messy blobs of paint on your art - simply stop priming when paint saturates the tip.
✔︎ REFILLABLE & LONG LASTING:

Running out of paint in the middle of a creative flurry is just flat disappointing. But unlike other acrylic paint markers, ours are endlessly refillable, with our paints, their paints, or your own color mixture experiments. Transparent barrels make it easy to find the color you need in the moment & you'll know it's time to refill before you run out; saving you money & eliminating waste!
✔︎ PERMANENT & NON-TOXIC:

Filled with permanent paint that quickly dries to a matte finish & resists the elements. Safe for your health & environment so you can keep expressing your passion; NO solvents, NO toxic chemicals, NO skunked up noses, NO dead brain cells & it's easy to clean off skin!
✔︎ ACCURATE, EASY & DURABLE:

Equipped with pump action 2mm round tip that is accurate & easy to control; perfect for painting semi-bold medium-weight lines & larger details. Tips are crafted from a durable & hard synthetic fiber that stands up to the most vigorous use & resists: quickly-wearing & drying-out, & can be easily replaced when they do!
✔︎ ANY SURFACE & MEDIUM:

Express yourself on almost any surface, material, or medium. Create your stunning masterpieces on paper, canvas, wood, brick, stone, glass, metal, plastic, fabric, & more. The world is now your canvas & the only limit is your imagination!
*Surface preparation & finish recommended - Instructions included.
Where Will Your Creativity Take YOU?
We know you want the best quality possible from your painting supplies.. but you also want versatility and simplicity, too.
That's exactly what you get when you make the step up to Konker Colors acrylic paint markers.
Need to escape to your favorite little sanctuary in nature & create without being interrupted? Our top-shelf markers let you make it happen on the fly, all you need to do is grab & go!
There's no frustrating setup, no discovering your favorite tubes of paint dried up, or that your dog has used your most expensive brushes as chew toys. Just prime the easy pump action tips of your paint markers & you're ready to start creating.
When you're done you won't have to spend a half hour cleaning brushes & scrubbing paint out of the sink. Just replace the airtight caps to keep your marker tips from drying out & you're done until your next painting session!
It just couldn't be any easier to create stunning detailed works of art to sell, showcase in a gallery, or simply show off to your friends!
Refillable acrylic paint markers mean less waste & more hard-earned cash In your wallet!
When we create products we are committed to reducing waste as well as providing a better user experience. That's why we insisted on making sure all of our markers feature a refillable barrel.
Refillable markers give you all the convenience of markers without the waste. When the paint runs out, you can just refill them, with our perfectly matched paints so you don't miss a beat.
Of course, you can also refill them with your own custom color mixture, or even other brands of paint! - Please keep in mind that because our paints are specially formulated for opacity & flow, your results with other paints might not be as satisfying.
All of this means less waste clogging up our landfills. Sure, we could have stopped at using recyclable materials in our marker barrels & tips.. but we believe that keeping them out of the landfills is an even more environmentally responsible approach.
Because we designed our paint markers to be refilled time & time again, you get the quality you want without having to continually spend more money on new markers.
Think about it, you could opt for a cheap set of paint markers filled with low-quality paints. You'd probably save a few bucks over buying a professional quality set like ours. But even if you're fine with sacrificing quality for the sake of spending a bit less - we doubt this is the case, but bear with us.. you'll still have to buy a whole new set when the paint runs out.
Even if you could refill a cheap set of paint markers, you'll be disappointed with how fast the tips wear out. That's because lower-quality markers are made with tips that wear out after just a few uses. When that happens, they're completely useless!
When you move up to Konker Colors markers, you're making a long-term investment in your creative future. You'll be impressed by how one set can outlast a dozen - or more - sets of cheap throwaway markers & that means more money left over for whatever inspires you to create!
It's time to make the switch to Konker Colors.. & rediscover art!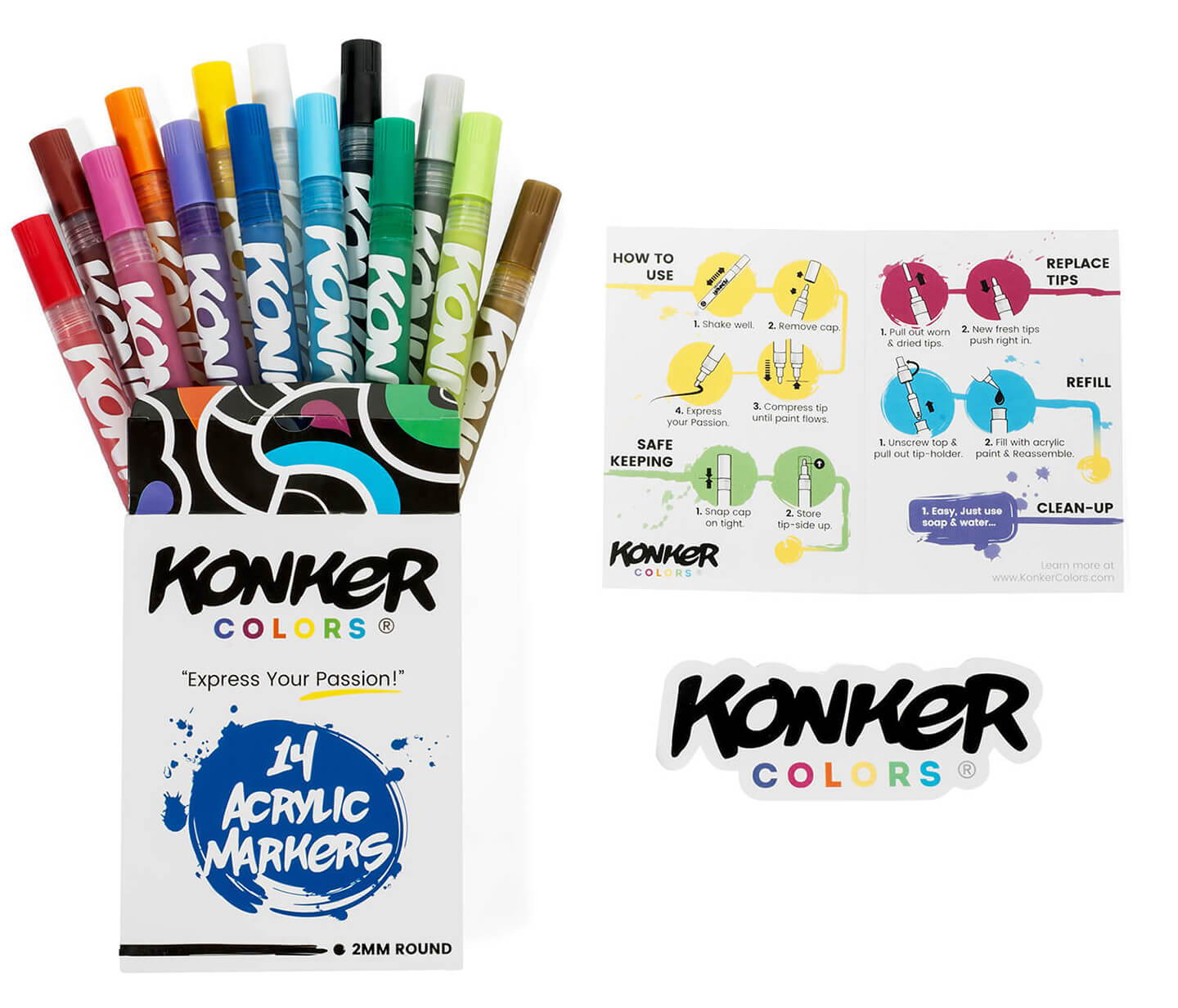 Isn't it time you finally got your hands on a set of paint markers that lets you create art your way? Why continue wasting time & money on messy tube paints & difficult-to-master brushes, or cheap non-refillable markers that just don't last.. when you have the world's best acrylic paint markers right at your fingertips?
Our professional paint markers sells for $79 in art stores.. and we've received countless emails telling us that they're worth every penny!
But we wanted to make it even easier for you to say "YES!" to your new best friends. So we've set aside a very limited quantity of our professional-grade markers to offer here at a deeply discounted price.
Right now, you're getting your Konker Colors acrylic paint markers for much less than retail price. In fact, to reward you for jumping on this opportunity today, we're letting these fun-to-use markers go for just..

$59  (That's a 25% Discount!)
PLUS..
With your purchase you'll receive FREE lifetime membership to our Insiders program!
As far as we're concerned, giving you what you expect just isn't good enough. So in addition to getting the most satisfying, easy-to-use paint markers money can buy, you're also getting a lifetime Insiders membership when you purchase today.
Insiders Receive:
✔︎ Special coupons to help you re-supply favorite products or explore new ones, just for joining.
✔︎ Awesome extended warranty on all your purchases.
✔︎ Invites for free product samples, and prototypes for testing.
✔︎ Our newsletter; messages, images, stories & quotes to empower you to express your passion; directly to your inbox.
✔︎ We also like to occasionally send event invitations, product announcements, and giveaways.
✔︎ & much, MUCH more!
Your purchase is also protected by our iron-clad guarantee!
We're pretty thrilled with all our products & we're convinced you will be too.
We understand that you might be a little hesitant to "pull the trigger." After all, there are lots of arts supply sellers out there who will promise you amazing products, and then give you the same old cheap stuff everybody else is selling.
That's why we insist on completely covering your purchase with our **Best to Express Yourself - or Your Money Back - 100% Satisfaction Guarantee!**
Simply put, if you don't agree that our products are everything we say they are, if they don't help you express yourself the best, or if you're just not satisfied for any reason at all – just contact us and we'll do whatever we can to improve your experience or happily refund every penny you invested in your purchase.
We won't give you any hassles or make you fill out a bunch of meaningless paperwork – we'll just refund your money and part ways as friends.
✔︎ easy..
✔︎ no hassle..
✔︎ no risk..
Sound fair?
Good. Then it's time for you to discover creativity without limits – click the button below and order your Konker Colors acrylic paint markers now!
Want to See What Other Professional-Level Artists Say About Our Paint Markers?